OBEX Workspace Separation Screens
Model:
OBX-WSS-2424
Brand:
Ships in 3-5 Business Days
Bulk Pricing:
Below are the available bulk discount rates for each individual item when you purchase a certain amount
Buy 4 or above and get 20% off
OBEX, a company out of California, takes its name from the Latin word for "barrier". They specialize in office "barriers" for workplaces or anywhere that has public facing employees. These new OBEX Workspace Divider Screens are constructed of frosted or clear acrylic. Just call us if you have any questions about these freestanding office screens. Please note that these panels have a small cutout notch so that there is no space between the panel and the work surface or cubicle (see images below). Need installation for large/ bulk orders? Please call 888-355-4999 or email info@OfficeChairsUSA.com. Minimum purchase of 2 units. Pricing drops dramatically on bulk orders. Contact us. Bulk discount of 20% in the cart when you buy 4 or more dividers!
FEATURES
Workspace dividers in clear or frosted acrylic

Divides both the sitting area and the desk area

Desktop brackets included

The panels have small cutouts in the bottom so that they sit directly on the worksurface (see the yellow highlight and images below)

Acrylic screens may be cleaned with glass cleaners, or a diluted solution of bleach or alcohol (1:3).
Options
2424 has 24" depth on the desk; 24" height on desk; 24" depth off the desk; 24" height below the desk

2430

has 24" depth on the desk; 30" height on desk; 24" depth off the desk; 18" height below the desk

3024

has 30" depth on the desk; 24" height on desk; 18" depth off the desk; 24" height below the desk

3030

has 30" depth on the desk; 30" height on desk; 18" depth off the desk; 18" height below the desk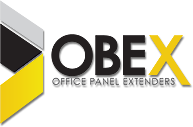 Overall Dimensions:

24"D x 24"H x 24"D x 24"H, 24"D x 30"H x 24"D x 18"H, 30"D x 24"H x 18"D x 24"H, 30"D x 30"H x 18"D x 18"H,
Product Warranty – 10 Years This warranty is non-transferable and is valid from the date of purchase, for as long as the product is owned by the initial purchaser. This warranty covers defects in the material and craftsmanship found during normal usage of the product during the warranty period. If a purchaser has a warranty claim, the buyer must return the product to Obex at purchaser's expense. Obex will then inspect the product and, in Obex's sole discretion, determine if it is defective. If Obex determines the product is defective and if written notice was properly given to Obex within the applicable warranty period, Obex will, at its option, either repair or replace the defective product with a comparable product or component. This warranty applies to all products except as noted below. High wear parts, such as fabrics are warranted for one (1) year. This warranty does not apply to damage caused by a carrier or alteration to the product not expressly authorized by Obex. Warranty Exceptions Matching of colors Changes in surface finish due to aging or exposure to light Damage from sharp objects or prolonged exposure to fluids or sun Damage caused by misuse or improper care Obex does not guarantee the matching of colors except to within commercially reasonable standards. A product will not be considered defective and Obex will not be obligated to replace it, if it not installed in a proper manner (i.e. not secured properly or the way it was intended). Obex reserves the right to make a warranty determination based on purchaser's installation methods. Except as noted above, Obex makes no express or implied warranties to any product, and in particular makes no warranty of fitness for any particular use. At Obex's option, product repair and/or replacement are the customer's exclusive remedy for any and all product defects. To the extent allowed by applicable law, no other warranties are made, either expressed or implied, including the implied warranties of merchantability and fitness for a particular purpose.