Humanscale Horizon Task Light
Ships in 5 or 30 Business Days
The Horizon Task Light by Humanscale is the pinnacle of high technology packaged in ergonomic design. This Humanscale Horizon task light is equipped with Thin Film LED Technology, resulting in a thin profile and a wide footprint of light. Intuitive features in this light include spherical joints that allow for easy adjustability and a dimming feature which is easily accessible. A signature feature of this light is its nightlight feature. At this high-efficiency setting, the light only uses one watt of power! Offered in three different finishes; Silver (semi-matte), Artic White (high-gloss) and Jet Black (semi-matte).

Striking, organic aesthetic complements any interior

First use of innovative Thin Film LED Technology in a task light

Even plane of illumination casts just one shadow

Produces ultra-wide footprint of glare-free 3000K (warm white) light

Spherical joints in the base and light assembly facilitate easy, intuitive positioning

Seven levels of adjustable illumination increase the light's energy efficiency and ergonomic function

Nightlight feature operates at just one watt

Soft start and adjustment is easy on the eyes

Robust, high-quality design ensures years of maintenance-free use

Power consumption: 9 watts

Dims to 10% of maximum

Lifespan: Up to 50,000 hours

May contribute to valuable LEED credits

5-year, 24/7 warranty
Finishes: Twilight Blue (high gloss), Bronze Gold (semi-matte), Dusk Pink (dark pink) (high gloss), Sunrise Orange (high gloss), Morning Pink (light pink) (high gloss), Jet Black (semi-matte), Arctic White (high gloss), Silver (semi-matte)
Quickship in BOLD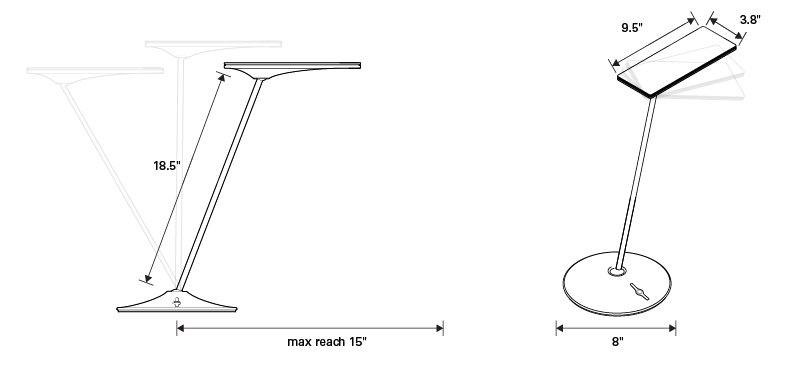 Create Environmentally Friendly Spaces with Humanscale
Humanscale is passionate about helping you design projects with minimal environmental impact.
Humanscale offers options for customers to "close the loop" and dispose of products in the most responsible way possible. Rather than sending them to landfills, we would like to make it easier for our customers to repurpose their products.

Download more information on this program >



We are an authorized Humanscale retailer. For special pricing requests, information or samples on this or any other Humanscale product please contact us directly.
Overall Dimensions:

9.5"W x 3.8"D x 18.5"H

Base Diameter:

8"

Max Reach:

15"
Backed by Humanscale's 5-year, 24/7 warranty