The Element 790 Task Light with disc style base by Humanscale provides exceptional performance in an award winning design. This task light combines ergonomic design, (being able to turn a full 360 degrees), with unprecedented functionality of an LED, with the lamp delivering that equivalent of a 90 watt incandescent bulb while only using less than 6 watts of power. This small task light allows you to save money without sacrificing the quality of light in your workspace. Also featured in this lamp is seven different dimmer settings for enhanced user control. Offered in three different colors; Silver (semi-matte), Artic White (high-gloss) and Jet Black (semi-matte).

Single light source casts just one shadow

3500K (neutral white) light

CRI 85 Unique, heat-shedding design maximizes light output and increases the light's usable life

Intuitive dimmer switch controls 7 levels of adjustable illumination for extra energy savings and control

Perfect internal counterbalance provides effortless, one-touch positionin

Power consumption: 5 watts, utilizes only 0.5 watts in lowest setting

Color Temperature: 3500K Life: 50,000 hours (L70)

ETL, CB Certified RoHS/WEEE compliant

Maximum reach: 28"

Working height: 18"

360° swivel from base

135° front-to-back head tilt

90° side-to-side head rotation

Finish options: Silver, White with Silver accents, Black

May contribute to valuable LEED credits

5-year, 24/7 warranty
Download the Humanscale Element 790 Brochure here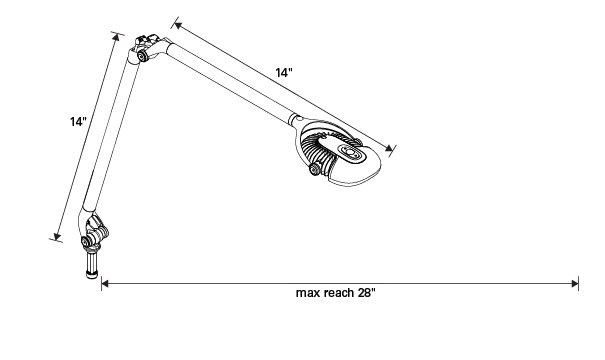 Create Environmentally Friendly Spaces with Humanscale
Humanscale is passionate about helping you design projects with minimal environmental impact.
Humanscale offers options for customers to "close the loop" and dispose of products in the most responsible way possible. Rather than sending them to landfills, we would like to make it easier for our customers to repurpose their products.

Download more information on this program >



We are an authorized Humanscale retailer. For special pricing requests, information or samples on this or any other Humanscale product please contact us directly.
Backed by Humanscale's 5-year, 24/7 warranty