Triumph-LX Electric Height Adjusting Table
Model

ESI-2T-C28
Brand
Vendor
Condition
Gift Wrapping
Weight
The ESI Triumph Electric Height Adjusting Table is a versatile sit-stand desk option available in 10 sizes and 16 laminate top colors with standard matching 3MM edge band color. (Please request laminate samples to see actual colors as digital swatches can vary in color.) A digital keypad with 3 memory settings is included, so that you can share this workstation and remember your height set-up. Simple and elegant, this sit-stand table or desk is the perfect addition to any office setting. All sizes ship totally free in 2-3 business days, except for the 36" x 24" which ships in 4 weeks.

Specifications
Height Adjustment Range: 17.3"

Desk top range of 26.1" - 43.4" H

Adjustment Speed: 1.4"/second

Lifting Capacity: 220 lbs.

Adjustable Cross Channels

Soft Start feature allows the user to ease-in to a height adjustment

Anti-Collision Safety Feature

Standard square edge band comes in a matching laminate color (see chart below)

Widest selection of top finishes available anywhere
Sizes
36"W x 24"D or 30"D

42"W x 24"D or 30"D

48"W x 24"D or 30"D

60"W x 24"D

or 30"D

72"W x 24"D

or 30"D
Laminate Top Finishes with Matching Edge Band Color (standard square edge)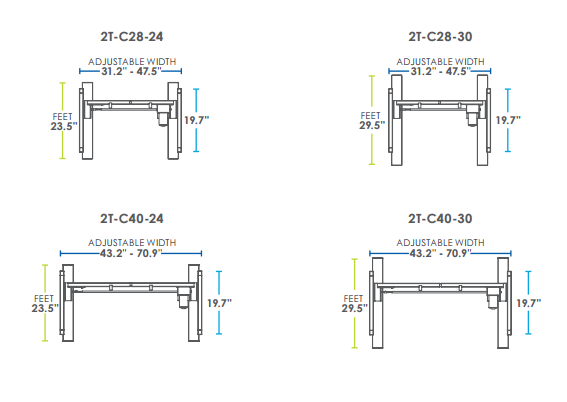 Options: Add this great Easy Goes It Anti-Fatigue Mat that will help reduce foot, leg and back fatigue so you can stand more while using your sit to stand desk.
Read more about this Easy Goes It Anti-Fatigue Mat here
3/4" thick 100% polyurethane foam

18"D x 30"W x 3/4" Thick
Authorized Retailer for
WARRANTY INFORMATION VOLUME 27
esiergo.com | 800.833.3746
Woman-Owned Small Business • GSA Contract Holder • CAP & GIZA • Project Matrix • ICE
V27 Catalog
In our continued effort to provide ergonomic solutions to our customers, it is our commitment
to stand behind any product or service, whether manufactured or sold by ESI Ergonomic
Solutions.
LIFETIME WARRANTY
• Articulating Arms • Corner Makers • Keyboard Platforms
TEN-YEAR WARRANTY
• LED & Fluorescent Lighting Fixtures (Ten year warranty on light fixture does not include
bulb or ballast)
• EDGE Series Monitor Arms • Workstations (TITAN, MRFSWS-EDGE, WOW)
• Adjustable Table Structural Components (cross channels, feet, top supports)
• Evolve Series Monitor Arms
FIVE-YEAR WARRANTY
• LTH-EDGE and LTH-MR Laptop Holders • Work surfaces • Mechanical Components
used in Adjustable Table Bases (crank drives, spindles, hand switches, motors)
• CPU Holders
THREE-YEAR WARRANTY
• Ergorise Lift • Ergorise Climb • Ergorise Climb2
TWO-YEAR WARRANTY
• ACPC Utility Cart • DESK1 Desk Risers • ENCLOZE Monitor Holder
• Footrest • Keyboard Drawer Slides
• Mouse Pads • ORION Tablet Holder • Palm Rests • Mobile Work Stations
ONE-YEAR WARRANTY
• ACPD01 Pencil Drawer • Fluorescent Ballasts • LED Transformers
Warranties are based on normal installation and use of products in a standard 8-hour shift,
unless otherwise noted. Warranty does not apply to damage in shipment caused by carriers,
damage caused during installation, normal wear and tear, use or conditions. Products
that are modified or tampered with in any way by any person other than an authorized ESI
Representative will not be covered under warranty. Costs (such as installation, labor fees
or express shipping) incurred due to replacement of products will not be covered under
warranty.
Victory LX - Electric Height Adjustable Table Base

With 2 and 3 leg options, the Victory-LX series table base off...
Victory LX - Electric Height Adjustable Table Base
02:20
With 2 and 3 leg options, the Victory-LX series table base offers endless possibilities, freedom, and flexibility in configuring workspace layouts. Visit esiergo.com to learn more.