Discovery Back Tilting Tasker
Ships in 10-14 Business Days
The Discovery Back series was designed specifically with ergonomics in mind and contexts with heavy side-to-side tasking like nursing stations. The unique "Pear-Shaped" design of the backrest permits the user's shoulder blades to fully stretch when leaning back. This series has Proprietary DCS™ Technology (double molded memory foam) in most backrests and some seat cushions. This model has rocking tilt, EZ back height adjustment, tilting backrest and forward tilting for comfort. 12 Year Limited Warranty.
Specifications
Pneumatic lift

EZ back height adjustment

Tilting backrest

Rocking tilt

Forward tilting adjustment

Tension Knob

Standard is armless - for arm options see below

Base accent in Standard Black

Carpet casters standard, see options below

DCS in backrest only

Warranty : 12 year limited
Dimensions
Overall Width 25"

Overall Height 36" - 42"

Back 8"x 16"W and 18"H

Seat 21"W x 17.5 - 20.1"D




Seat Height 17-22"
Arm Options: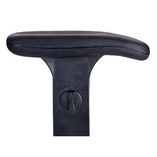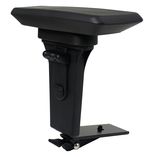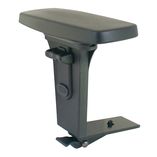 KR-21 (1D Motion) - Fixed width, turn-knob height adjustable T-arms

KR-445 (4D Motion) - Height and width adjustable, removable T-arms with fore-aft, side-side, and inward pivoting arm top (RP-45)

KR-465 (4D Motion) - Height and width adjustable, removable T-arms with lockable arm top, fore-aft, side-side, pivoting arm top (RP-65)
Base Accent Option: Standard Black
Caster Options:

Standard Carpet Caster, size may vary per chair model* (5 per set)
Multi-Surface Soft Casters are ideal for wood, tile and smooth or harder surfaces. (5 per set)
Office Master offers the following warranties to the original user. 12 Year Limited warranty unless otherwise specified, all models not classified as 'budget' or 24/7 or heavy duty. 7 Year Limited Warranty unless otherwise specified, all models classified as budget or 24/ 7 or heavy duty. Fabrics and foams are covered by a period of 5 years. All models are equipped to handle sitters up to 250 pounds unless noted otherwise. Warranty does not cover labor. To start a claim contact us at 888-355-4999 for products bought directly from us or Office Master at 877-776-5678