Flexibility and modularity reach new heights with the new Concerto Dual Mounting Hub. The monitor arm hub provides an ideal solution for multiple monitor configurations. Desk clamp and grommet mounts are included. Lifetime Warranty from Intellaspace. Ships Free in 3-5 weeks.
Specifications:
Dual Screen, Dual Hub

Monitor Forward Reach: 6.75"-24"

Pole Height: 12"

Monitor Capacity: 3-20 lbs per screen

Ability to mount two (36" max.) or three screens (18" max.) on a single pole

Monitor Size: 39" Max Screen Width

The Hub has a locking device to allow it to be firmly clamped to the pole

Level plane for the standard arm configurations, keeping the monitors at the same height

Quick Connect allows fast, simple assembly

Cable manager keeps cables hidden

Desk clamp and grommet mount hardware are included

Lifetime warranty
Mount Options Included
Download the Concerto Dual Monitor Dual Hub Arm PDF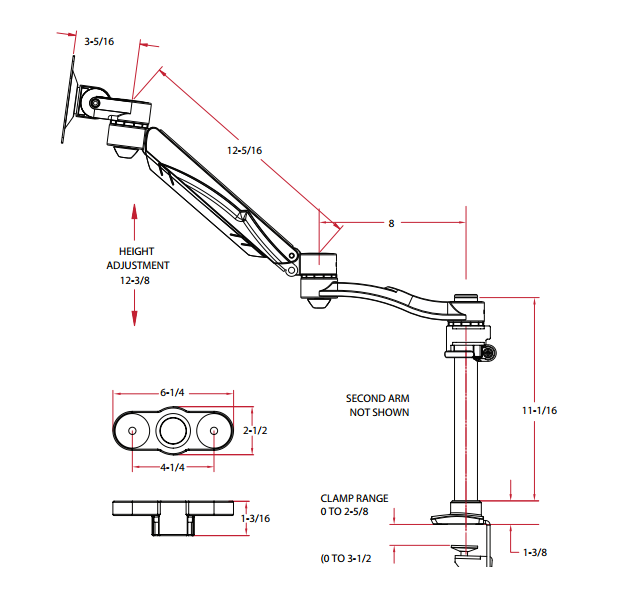 WARRANTY Intellaspace offers a LIFETIME WARRANTY on all products covering defects in material or workmanship. The warranty does not extend to any products that have been damaged as a result of normal wear and tear, accident, misuse, abuse, acts of God or other contingencies beyond the control of Intellaspace, or as the result of service or modification by anyone other than Intellaspace. Intellaspace will repair or replace, at its sole discretion, any product which is found to be defective product, Intellaspace will refund the product's purchase price to purchaser. Intellaspace does not cover installation charges. This warranty does not apply to any damage caused by a carrier, nor any alterations of the product not expressly authorized by Intellaspace and in conformance with product specification and use limitations. LIMITATION OF DAMAGES Recover for breach of any of the terms and conditions of sale shall be limited to direct losses that may not exceed the purchase price of the product. In no event shall Intellaspace be held liable for consequential damages, such as lost profits, or any other consequential, incidental, exemplary or punitive damages.