6G System w/ 900 Board and High Clip Mouse
Model:
HMS-6GW90090HF22
Brand:
Ships In 20-30 Business Days
The 6G System with White 900 Board and High Clip Mouse by Humanscale is a well-designed keyboard sold by the top manufacturer of articulating keyboard systems. This keyboard system comes equipped with Humanscale's 6G negative-tilt keyboard system which combines easy dial-a-tilt and height adjustability while being the lightest, most sustainable mechanism of its kind. The keyboard can perform angles from 0-15 degrees in a negative-tilt fashion. For this keyboard system you have the option of specific track lengths that will fit virtually any subsurface; 11 inches, 12 inches, 14 inches, 16 inches, 18 inches, 22 inches (standard), 25 inches and 27 inches sizes are available. Y

FEATURES:
Intuitive height adjustment requires no locks, levers or controls

Dial-a-tilt positioning allows you to type at the angle most

comfortable for you

Ultra-thin profile provides maximum knee clearance

Superior design provides maximum strength and stability

Raised tilt mechanism protects the keyboard from collisions

with the edge of the desk

Humanscale's line of keyboard supports features the 6G, the

lightest, most sustainable mechanism of its kind

Utilizes 28% less material than similar mechs

Weighs only 6.5 pounds—28% less than similar mech

The high clip has an extra one inch height for additional adjustment and usability

The clip mouse is the only mouse platform that adjusts in three dimensions to enhance comfort

It can be custom positioned using the height, depth, lateral, and tilt adjustability

Place it on either side of the keyboard for right- or left-handed use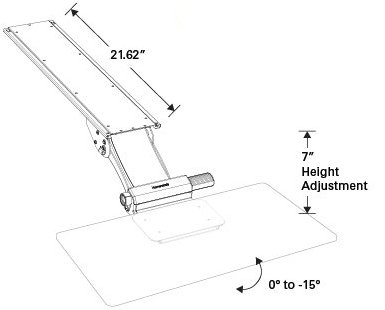 SUSTAINABILITY:
All of Humanscale's articulating keyboard systems can help building projects achieve valuable LEED credits.

Recycled content: up to 19% post-consumer

Made predominantly of steel, which is highly recyclable
Create Environmentally Friendly Spaces with Humanscale
Humanscale is passionate about helping you design projects with minimal environmental impact.
Humanscale offers options for customers to "close the loop" and dispose of products in the most responsible way possible. Rather than sending them to landfills, we would like to make it easier for our customers to repurpose their products.

Download more information on this program >

We are an authorized Humanscale retailer. For special pricing requests, information or samples on this or any other Humanscale product please contact us directly.
Board Dimensions:

19" W x 10.62" D

Standard Track Length:

22"

Optional Track Lengths:

11", 12", 14", 16", 18", 25", or 27"

Track Height Adjustment:

7"

Mouse Diameter:

8.5" or 10"

Palm Support:

19"
Backed by Humanscale's 15-year, 24/7 warranty