This AMQ electric adjustable height desk base is a high quality well built product with a whisper quiet motor system. This adjustable height desk base has a total lifting capacity of 250 pounds which of course includes the weight of the top itself. The metal table base is width adjustable in increments of 1 mm from 44" to 72". We do have complete 'kits' that include tops such as the AMQ Activ-PRO if you do not have a top of your own. This metal table base is fabricated in the USA and includes frame uprights, T-legs or C-Legs, dual motors with drive rods, stretcher bar and touch pad preset memory pad for height control. This metal table base is 110 Volt powered (household current). Need some privacy? Check out our great selection of Obex Privacy Panels for desks and cubicles here!

Extra 15% discounts in the shopping cart for 5 or more units
Anti-Collision Technology assists table in avoiding objects in its path (see details below)

Expandable base width of 44-72"

Adjustable height desk base accommodates tops that are 24" in depth or greater and up to 72" in width

Available with T-Legs or C-Legs (see below images)

Whisper quiet dual motors with twin drive rods

Touchpad control with 4 memory presets

Metal frames, stretchers and feet

Adjustable floor levelers

Optional locking casters

Platinum or White finished base ONLY with 2 Stage base; Black, Platinum or White finished base with 3 Stage base

Lifting capacity of 220 lbs.

Height range without top is 27-46.7" (tall)

5 Year AMQ factory warranty
Does not include a Top / Base Only
Indoor Advantage GOLD Certified - see clean air certificate below!
Frame Finishes


Base Dimensions:
23.5" Front to Back Mounting Flange

28.5" Front to Back Feet (Base)

Expandable in 1mm increments from 44-71"
Gyroscope / Anti-Collision Technology: ACTIV bases have built-in gyroscope sensors in their control boxes which can detect angle and speed changes on three axis, triggering the anti-collision safety feature. When activated, bases reverse direction for 2 seconds before stopping. Reaction Time: 50ms-600ms
Design Studio Note: We traditionally sell these sit-stand desks as 'kits' that include both the electric base and a top. Sometimes our customers are using a top from another source or have a top that they would prefer to use. If that's the case then this is a great way to go. This base starts out at 44" in width and can be stretched to 72". Take into account that the mounting plate atop the base itself is 23.5" in depth so the minimum depth top that would be paired with this product would have a depth of 24". We do not suggest that you attach tops greater than 72" in width ( a few inches over this is ok). Questions please call us at 888-355-4999 or connect by Live Chat or our contact form. Base includes, stretcher bar, uprights, motors, feet and memory control pad. Requires 110V connection (normal household current US). Assembly required.
Need to know more? Download an AMQ brochure.
View the AMQ Activ-PRO installation guide.
2-Stage Leg Style: T-Legs with bar centered; C-Legs with bar off-center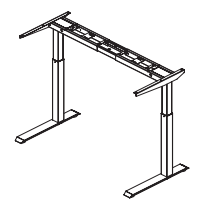 3-Stage Leg Style: T-Legs with bar centered; C-Legs with bar off-center
Options: Add this great Easy Goes It Anti-Fatigue Mat that will help reduce foot, leg and back fatigue so you can stand more while using your sit to stand desk.
Read more about this Easy Goes It Anti-Fatigue Mat here
3/4" thick 100% polyurethane foam

18"D x 30"W x 3/4" Thick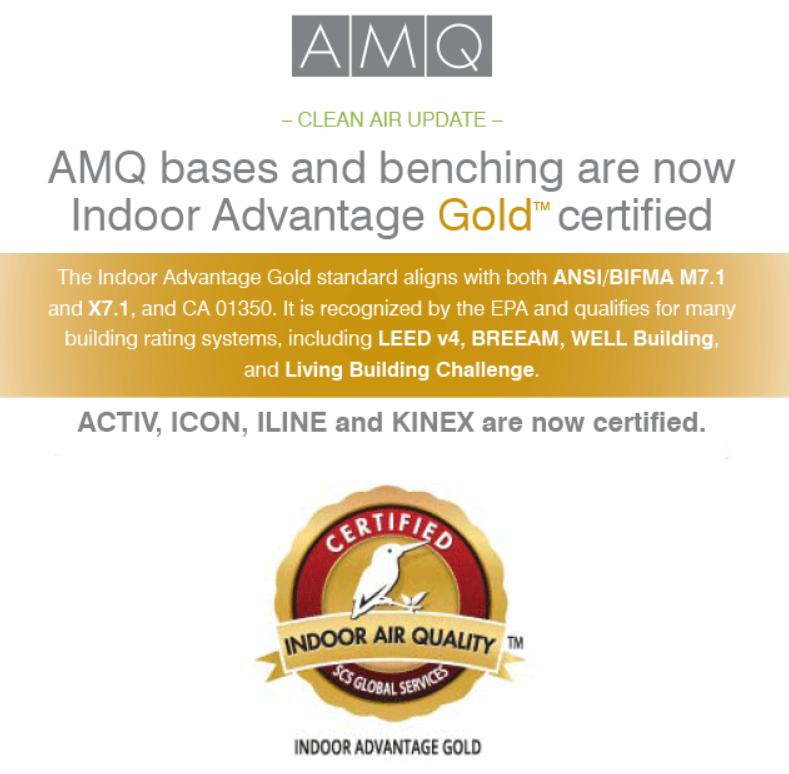 Authorized Dealer
AMQ warranty is offered to the original user and is good for 5 Years. Warranty coverage covers parts and applies to tables used in standard 40 hour work weeks within the United States. Does not cover owner modification or abuse or normal wear and tear (scuffed or damaged tops, spilled liquids)