X-Tech Executive Task Elemax Heat, Massage & Cooling / Open Box
Model:
XCH-X-TECH-HMT-ELE-SHT-OPN-BX
Brand:
Ships in 1-2 Business Days
X Chair's X-Tech Executive Task is a chair that we truly get excited about! X-Chair has taken its highly successful series of chairs and gone one step further with the X-Tech. Featuring two premium fabrics in it's design: Brisa Soft Touch for air circulation and Advanced Tensile Recovery (A.T.R.) fabric for support. Both fabrics will keep you cool and comfortable all day. The seat is a patented Cooling Gel Contoured M-Foam, draped in Brisa Soft Touch fabric. Complete with a sliding seat, infinite recline and tilt lock, dynamic variable lumbar support as well as numerous other functions that are listed below, this executive ergonomic office chair will fit your body like a glove and support you throughout your workday. This lushly upholstered executive chair, coupled with the incredibly well done polished aluminum base, frame and under-structure, exudes beauty and confidence. In addition, the new FS Wheel casters will add a sleek more stable ergonomic foundation to your X Chair! (see details below) Now you can also get the X-Side chair that offers the advanced comfort of Flex Mesh Technology, the unparalleled relief of Dynamic Variable Lumbar support, and the distinctive design of the X-Chair. The X-Side provides instantaneous and personalized ergonomic support for every user in a new uni-body construction. Extensive limited 15 year factory warranty from X-Chair.

This beautiful Shitake Brown leather Elemax chair was returned to us in unused condition. No signs that it was ever assembled. The chair is fitted out with the Cooling, Heat and Massage pack along with the upgraded casters and foot-rest as noted below. The standard cart price on this chair is $2,074. We have it marked down to $1,769.00 for a fast sale. We have only one (1) on hand which we expect will move very quickly. Free shipping is included. Full factory warranty.
This is an Open Box offer for one (1) unit only.
Cooling Gel Contoured M-Foam

seat

Shitake Brown premium leather

Dynamic Variable Lumbar (DVL) support moves with you

SciFloat Infinite Recline facilitates motion, increases circulation, concentration and energy levels

Patented SX Silhouette Adjustment Mechanism

Adjustable tilt tension and variable tilt lock

Adjustable seat depth for optimal fit

Pneumatic seat height range of 18.5-23"


Height adjustable backrest adapts to your spines curvature

4-Dimensional Arms adjust forward and back, side to side, up and down as well as pivot

Upgraded Black X-Wheel casters (see below)

Foot-rest

Highly polished aluminum base and frame

Adjustable headrest

in matching upholstery

adjusts vertically and rotates

4 Combinations of Massage and Therapeutic Heating Technology HMT, along with Elemax Cooling

Limited assembly required

User weight capaacity of 340 lbs.
X-Chair factory warranty
Optional Cooling, Heat and Massage Technology
ELEMAX is a Cooling, Heat & Massage Unit that exclusively fits into the Dynamic Variable Lumbar (DVL) TM Support of the chair. This novel technology provides full-body temperature control to maximize your seated comfort. ELEMAX is powered with dual fans and fast-warming technology that are targeted at the body's core. Cooling or Heating can be coupled with ELEMAX'S dynamic massage functionality that exerts a constant or variable massage cycle with 2 levels of massage intensity (gentle or powerful) for a total of 4 massage program combinations.
Dynamic Variable Lumbar (DVL), SciFloat Infinite Recline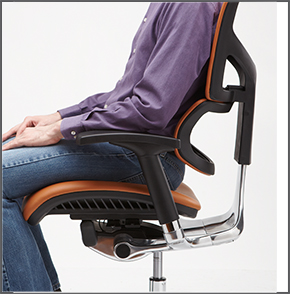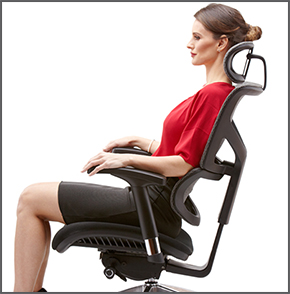 Caster Options: Standard FS Wheel or Upgrade to Locking FS Wheel
Featuring 100% rubberized blade wheels and a free ball-bearing core, FS Wheel Blade Casters are quieter and smoother. They work better on hardwood and pile carpet alike, and they are more gentle on tile, hardwood, vinyl, carpet, and almost any surface. Ball bearing swivels spin easily, preventing scuffing and scratching.
Dual Wheel Standard or upgrade to one of FS Wheel Options below
3 FS Wheel Choices
Upgrade to FS Locking Wheels - 5 Color Choices
Add X Side Chairs to complete your office
proprietary Dynamic Variable Lumbar support is now available in a side chair

adjusts automatically to provide

personalized support for everyone

Flex Mesh Technology in the seat and back for ultimate support (black mesh ONLY)

polished

aluminum uni-body frame that has been molded from a single piece of metal for maximum strength

Authorized Dealer
X-Chair warrants this product for a period of 15 years, subject to the following exceptions: All parts and materials are warranted for 5 years. During this time, X-Chair™ will provide replacement parts for any damage that is due to defect in material or workmanship. For the first 2 years, X-Chair™ will bear the entire cost of replacement parts and shipping. For the next 3 years, X-Chair™ will bear the cost of the replacement parts, but the customer will be liable for the cost of shipping. All non-moving metal components of the chair are warranted for an additional 10 years (for a total of 15 years). The customer must provide appropriate pictures of their damaged product if requested. A defect in material or workmanship does not include damage to a product, or failure of a product to operate or perform properly or to maintain appearance, caused by (1) misuse or abuse of the product; (2) improper assembly or assembly that was not as recommended by the written assembly instructions; (3) normal wear and tear; (4) a natural disaster or an Act of God; (5) transportation; (6) an unauthorized modification made without the express written consent of X-Chair™; (7) improper storage; (8) the natural aging of materials such as wood, leather, and fabric which results in colors shifting during use; (9) crocking or reverse crocking of dyes from clothing on our seating materials. Products damaged in these ways will not be considered defective and will therefore not be repaired, replaced, or refunded. X-Chair shall not have tort liability with respect to a product, and we shall not be liable for any consequential, economic, indirect, special, punitive, or incidental damages arising from a product defect.