X Chair X3 Management Task
Ships in 1-2 Business Days
Bulk Pricing:
Below are the available bulk discount rates for each individual item when you purchase a certain amount
Buy 11 or above and get 10% off
X-Chair's X3 ATR Management Office Chair is the most innovative X-Chair yet. The X3 Management Chair incorporates all the same designs and ergonomics as the X2. However, we are excited to introduce Advanced Tensile Recovery fabric (ATR) throughout the chair to provide enhanced support and comfort. ATR is a three-dimensional multilayered knit polymer that is both forgiving and supportive. Compared to traditional fabrics, it has more give and spring and as a result, it provides greater contouring on the back and an enhancing layer of comfort on top of the X3's high-density molded foam seating surface. In addition, ATR is water, spill, and stain-resistant, meaning your chair will continue to look good as new for years to come. Complete with a sliding seat, infinite recline, tilt lock, dynamic variable lumbar support as well as numerous other functions that are listed below, the ergonomic X3 office chair will fit your body like a glove and support you throughout your workday. While we especially like the X2 chair for its K-Sport material which is unique to the X2 model, the X3 ATR Management Chair sets a new benchmark in performance and comfort. Coupled with the incredibly well-done polished aluminum base, frame, and under-structure, this X3 ATR task chair model just exudes beauty and confidence. In addition, the new FS Wheel casters will add a sleek more stable ergonomic foundation to your X-Chair! (See details below.) Now you can also get the X-Side chair that offers the advanced comfort of Flex Mesh Technology, the unparalleled relief of Dynamic Variable Lumbar support, and the distinctive design of the X-Chair. The X-Side provides instantaneous and personalized ergonomic support for every user in a new uni-body construction. Ships Free in 1-2 Business Days. Extensive limited 15-year factory warranty from X-Chair. *Check out the great video on the X-Chair functionality in the video tab above!
Advanced Tensile Recovery fabric (ATR)

Dynamic Variable Lumbar (DVL) support moves with you

SciFloat Infinite Recline facilitates motion, increasing circulation, concentration, and energy levels

Patented SX Silhouette Adjustment Mechanism

Adjustable tilt tension and variable tilt lock

Adjustable seat depth for optimal fit

Height-adjustable backrest adapts to your spines curvature

4-Dimensional Arms adjust forward and back, side to side, up and down as well as pivot

Multi-surface soft-rimmed casters can be used on hard or carpeted surfaces, upgrade available

(see below)

Highly polished aluminum base and frame

Optional fully adjustable headrest adjusts vertically and rotates

Optiona

l 4 Combinations of Massage and Therapeutic Heating Technology (see below)

Optional Stool Kit

Get the NEW X-Side chair to complete your office

Minimal assembly required but can be

shipped fully assembled with an up-charge

User weight capacity of 340 pounds

This ergonomic office chair ships free in 1-2 Business Days

X-Chair factory warranty
Optional Heat and Massage Technology
Design Studio Take-away: The X3 introduces Advanced Tensile Recovery fabric (ATR) but still includes the floating infinite recline technology that helps your body stay in motion throughout the day, and can be adjusted to match your specific body weight so that movement is effortless. Experience improved circulation, concentration, and energy levels. Like with the other models, the ride of this chair is superior to most others. The underpinnings are robust and well engineered. The recline mechanism is above and beyond what we see in most chairs of this genre. Very strong factory warranty. Not much can be faulted in the overall design and ergonomics that are standard on each model. We strongly recommend all of the X-Chair models.
ATR Fabric Options: Black, Grey, Blue Glacier
Features: Dynamic Variable Lumbar (DVL), SciFloat Infinite Recline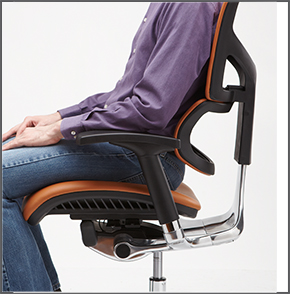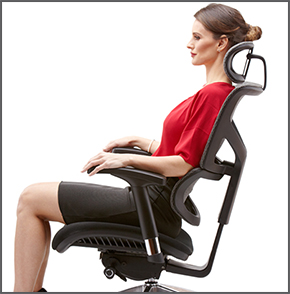 Caster Options: Standard Dual-Wheel, FS Wheel or Locking FS Wheel
Featuring 100% rubberized blade wheels and a free ball-bearing core, FS Wheel Blade Casters are quieter and smoother. They work better on hardwood and pile carpet alike, and they are more gentle on tile, hardwood, vinyl, carpet, and almost any surface. Ball bearing swivels spin easily, preventing scuffing and scratching.
Dual Wheel Standard or upgrade to one of FS Wheel Options below
3 FS Wheel Choices
5 FS Locking Choices
Add X Side Chairs to complete your office
proprietary Dynamic Variable Lumbar support is now available in a side chair

adjusts automatically to provide personalized support for everyone

Flex Mesh Technology in the seat and back for ultimate support (black mesh ONLY)

polished aluminum uni-body frame that has been molded from a single piece of metal for maximum strength

Authorized Dealer
Overall:

26.5"W x 39.75"-46.5"H (With Headrest: 45"-54"H)

Seat Width:

20.5"

Seat Depth:

19"-21.5"

Seat Height:

18.5"-22.5"

Back Width:

20.5"

Arm Height:

23.5"-27"

Overall (Optional Side Chair):

23"W x 39.25"H

Seat Width (Optional Side Chair):

19"

Seat Depth (Optional Side Chair):

20.75"

Seat Height (Optional Side Chair):

19"

Back Width (Optional Side Chair):

20.5"

Arm Height (Optional Side Chair):

25.25"
X-Chair warrants this product for a period of 15 years, subject to the following exceptions: All parts and materials are warranted for 5 years. During this time, X-Chair™ will provide replacement parts for any damage that is due to defect in material or workmanship. For the first 2 years, X-Chair™ will bear the entire cost of replacement parts and shipping. For the next 3 years, X-Chair™ will bear the cost of the replacement parts, but the customer will be liable for the cost of shipping. All non-moving metal components of the chair are warranted for an additional 10 years (for a total of 15 years). The customer must provide appropriate pictures of their damaged product if requested. A defect in material or workmanship does not include damage to a product, or failure of a product to operate or perform properly or to maintain appearance, caused by (1) misuse or abuse of the product; (2) improper assembly or assembly that was not as recommended by the written assembly instructions; (3) normal wear and tear; (4) a natural disaster or an Act of God; (5) transportation; (6) an unauthorized modification made without the express written consent of X-Chair™; (7) improper storage; (8) the natural aging of materials such as wood, leather, and fabric which results in colors shifting during use; (9) crocking or reverse crocking of dyes from clothing on our seating materials. Products damaged in these ways will not be considered defective and will therefore not be repaired, replaced, or refunded. X-Chair shall not have tort liability with respect to a product, and we shall not be liable for any consequential, economic, indirect, special, punitive, or incidental damages arising from a product defect.