What we love the most about the Polo Stool is that it has a wide seat height range. Seat height can be lowered to 19" and used as a chair or raised to 26" and it can be utilized as a medium height stool. Best thing is that this chair also tilts and reclines. This is a feature not found in 95% of the stools in the market. Very cool and versatile product. Ships Free in 2 Business Days. Backed up by the Dauphin-Valo 10 Year Factory Warranty. This is a high quality stool and you will be impressed with its heft and build quality. Foam seat is divine.
Synchronized seat and back with tension adjustment and multi-position back lock

Pneumatic seat lift

Black mesh back with integrated adjustable lumbar support pad

High quality mesh wrapped padded seat in Black

Height and width adjustable arms with durable polyurethane arm rest pads

Adjustable height metal footring

Black nylon 5-star base with carpet casters

Optional soft surface casters for use on hard floors such as tile, wood or polished concrete

Optional seat slider to pin point best working seat depth (adds 1" to seat height range)

Optional padded adjustable headrest

Seat height is 19-26" so user can work at desk or counter height level

Ships Free in 2 Business Days

10 Year Dauphin-Valo factory warranty
Specifications
Overall 24"W x 26.5"D x 45"H

Seat width 19.5"

Seat depth standard 19"

Seat depth w/ slider option 20"

Back height 21"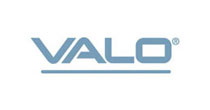 Valo warrants its products to be free from defects in material and workmanship for 10 years as long as the original customer owns and uses the product under normal single-shift office conditions. If a product is defective, and if written notice of the defect is given to Dauphin North America within the applicable warranty period, Valo, at its option, will either repair or replace the defective part or product with a comparable component or product. The 10 year Warranty applies to all products, and parts except upholstery Materials 3 years. This warranty does not apply to defects from normal wear and tear, accidents, negligence, abuse, shipment, handling, storage or environmental conditions nor does it apply to "Customer's Own Materials". Any modifications to our products made by the purchaser, purchaser's employees or agents, voids this warranty. This warranty extends to all product shipped after January 1, 2007 whichare used for normal office purposes and single-shift service. All claims under this warranty must be made by the original purchaser within 30 days of alleged defect. This warranty is the customer's sole remedy for product defect. No other expressed or implied warranty is provided. Dauphin North America is not responsible for any consequential, economic or incidental damages arising from any product defect.