LXO 6000 Ergonomic Task Stool
Model

NGL-6000DS
Brand
Vendor
Condition
Gift Wrapping
Weight
Standard with a sumptuous black Translucent ABLEX patterned weave mesh back and ENERSORB seat foam it's a home run in terms of a chair that can provide all day comfort.
The LXO like its big brothers offers any office space a refreshingly cool look and an awesome place to sit. This stool Ships Free in 14 business days. Backed by a strong factory warranty. We offer a choice of fabrics for upholstery options, but as always, if you're interested in an option not shown, please contact us for a custom quote! 1888-355-4999. Ships FREE to commercial zones only. See shipping options above for a residential address.
Translucent Black ABLEX patterned weave mesh back (patented)

Easy 2 use adjustable arms

360-degree swivel

Adjustable height footring

Pneumatic seat height with wide height range

Contoured seat and back shell for ergonomic support

ENERSORB energy absorbing dual density seat foam reduces sitting fatigue and minimizes pressure points promoting good blood circulation

Waterfall design seat front edge

Breathable Mystic 4 way stretch seat textiles for proper air circulation

5 Prong nylon base and heavy duty carpet casters

Optional soft casters for hard floors such as wood, tile or polished concrete

Optional polished aluminum base

Optional 4 way advanced arms

Graphite black frame

Ships Free
Bulk discount in cart for 6 or more stools

10 Year Factory Warranty (5 Years on textiles)
Specifications
26"W x 26"D x 43-53"H

Seat height range from floor 24-34"

Seat depth 18.5"

Seat width 19"

Back height 18"
Comment: The LXO stool has a vast seat height range of 24-34" which is very high for a stool of this type. The seat cushion on this stool is extra plush and will help relieve any common pressure points typical after an extended period of sitting. Highly recommended.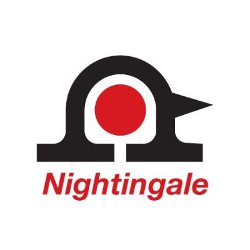 The Lifetime Limited Warranty applies only for NIGHTINGALE
products listed herein, and manufactured after January 1st,
2016, and applies to products delivered to customers in Canada
and the United States of America.
Under the NIGHTINGALE Warranty, all claims must be made
within the time period specified herein.
This Warranty begins with the date of purchase from the
Nightingale Dealer by the original purchaser, and applies as
follows:
• Lifetime Limited: all non-moving metal parts.
• 10 Years: Control mechanisms, casters, pneumatic
cylinders, self-skinned urethane parts, and plastic shells.
• 5 Years: Upholsteries.
Some natural variations occurring in wood, leather, or other
natural materials are inherent to their character and are not
considered defects. Nightingale Corp. does not warrant the
colorfastness or matching of colors, grains, or textures of these
materials. Additionally, a Customer's Own Material (COM)
selected by, and used at the request of, a customer, is not
warranted.
The Warranty does not apply to:
• Normal wear and tear over the course of ownership.
• Damage caused by abuse, misuse, accident, or negligence.
• Abnormal use or use within extreme climatic conditions.
Normal climatic condition is defined as the temperature and
moisture content range for human comfort and health.
• Alterations to or modifications of the product not approved
by Nightingale Corp.
• Products not installed, used, or maintained in accordance
with product instructions and warnings.
• Products used for rental purposes; and,
• Damage caused by the carrier-in-transit, which is handled
under separate terms.
Compliance with applicable laws, regular codes, certificates,
and manufacturing standards are disclaimed if this product
is misused, improperly installed, or modified in any respect
(including without limitation, any change in fabric or mechanical
components affecting stability, load capacity, or load
distribution) after shipment from Nightingale Corp.
The NIGHTINGALE Warranty is based on normal use
within a normal commercial office setting of single
shift, eight (8) hours per day, five (5) days per week,
by individuals of 250 lbs or less.
The NIGHTINGALE Warranty does not cover the cost of
transportation or labor, except as noted.
All Warranty claims must be submitted by the Nightingale Dealer
that sold the product.
Nightingale Corp. reserves the exclusive and sole right to
determine whether a NIGHTINGALE seating product is defective
in material or workmanship.
In order for Nightingale Corp. to determine whether the
Warranty applies, the following information must be supplied to
Nightingale Customer Care:
• Original Purchase Order and Purchase Order Date.
• Nightingale Corp. Invoice Number and Invoice Date.
• Product Model Number.
• Reason for claim.
• Please note that Nightingale Corp. may also require that
photographs be supplied, clearly depicting the defective
part or product. Nightingale reserves the right to deny any
Warranty claim that does not include photographs when
requested.
Should a Warranty claim be approved by Nightingale, then
Nightingale will issue a Warranty Ticket Number to that
claim. Nightingale Corp. will then, at its exclusive and sole
discretion, apply one of the following remedies:
1. Issue replacement parts only, at no charge and prepaid
freight. The cost of transportation and labor is not covered.
or
2. On a discretionary basis, Nightingale may determine
that replacement parts and more significant labor may be
required. Nightingale may authorize the Dealer to carry
out the repair either directly or via a bona fide third party
approved by Nightingale. All Warranty claims are evaluated
on a case by case basis. The following conditions apply:
• No service work can be performed without prior written
approval by an authorized Nightingale Corp. employee.
• The Warranty policy does not apply to Damage Claims,
which are processed separately. Please refer to the Terms
and Conditions outlined in the current NIGHTINGALE price
book, regarding Freight Damage.
• Nightingale Corp. will only deal with the Dealer directly.
Nightingale will not deal with any third party or end user.
• In order for approval to be given, the Dealer must submit
a pro-forma invoice or quotation, based on the average
hourly labor rate assigned by Nightingale Corp., as stated
below. Once approved, an authorized Nightingale employee
will provide written consent to proceed.
• The Warranty Ticket Number issued upon approval must be
indicated on the pro-forma invoice or quotation.
118 Nightingale USA Price Book
LIFETIME LIMITED WARRANTY
• If the Dealer chooses to outsource service work to a
bona fide third party, then the Dealer must provide a
bona-fide invoice or quotation from the third party.
• For the purposes of the Warranty, Nightingale Corp. has
assigned an average hourly wage rate of $20/hr based on
data provided by the Bureau of Labor Statistics (BLS) in the
United States, and Statistics Canada (StatsCan) in Canada.
Nightingale Corp. will not apply any amount greater than
this. Nightingale Corp. reserves the right to adjust the rate
without notice.
• Transportation time for only one employee will be
reimbursed unless it is necessary for more than one
service technician to perform the service. Transportation
costs must be supplied with the pro-forma invoice or
quotation. Nightingale Corp. reserves the right to decline
submissions for transportation costs, if they are not within
reason. Feedback will be provided with any declined
submissions so that the request can be re-adjusted and
re-submitted.
• All replacement parts will ship with an assigned Nightingale
Acknowledgement Number.
• After service work is performed, the Dealer must submit
an invoice. The assigned Warranty Ticket Number and
the Acknowledgement Number for the replacement parts
must be included on the invoice. Nightingale Corp. will not
reimburse any amount greater than the amount provided in
the pro-forma invoice or quotation.
• Nightingale Corp. will not reimburse for any service work
performed on NIGHTINGALE product without prior written
consent from Nightingale.
Over and above the description of the claim and any
photographs supplied, Nightingale Corp may require that the
defective part be returned collect. Nightingale reserves the
right to charge for a replacement part, if a defective part is
determined to not be covered under Warranty.
Warranty Exception:
• 247-HD, and Sherman (except HD9000DS which is rated
to 350lbs only) is warranted for multiple shifts and users
up to 450 lbs. Multiple shifts is defined as three (3) shifts,
twenty-four (24) hours per day, seven (7) days per week.
• Weight capacity for all task seating only (Legacy, Edge,
Ergo-Learn, Ultima II, WXO, EXO, LXO, Bradley, Veronna,
VXO, IC2, Dany) is increased to 300lbs.
• Weight capacity for CXO and SXO series is increased to
350lbs.
• CXO-TI ("Task Intensive") and HD6800D is warranted for
multiple shifts and users up to 350 lbs.
• CXO-HD is warranted for single shifts and users up to
450 lbs.
• Overtime is warranted for multiple shifts and users up
to 300 lbs. Multiple shifts is defined as three (3) shifts,
twenty-four (24) hours per day, seven (7) days per week.
• Nightingale Corp. warrants that the Nightingale products
listed above are covered under the Nightingale General
Warranty, as stated above. Due to the special application of
these products, the following specific Warranty applies:
The Following Warranty Exception applies to 24hr Rated
Items Only
• Lifetime: all non-moving metal components.
• 5 years: Heavy-duty control mechanisms, casters,
pneumatic cylinders, self-skinned urethane parts, and
plastic shells.
• 2 year: Upholsteries.
Nightingale Corp. offers no other warranty, either
expressed or implied, including any warranty of
merchantability or fitness for a particular purpose.
Nightingale Corp. shall not be liable for consequential or
incidental damages arising from any product defect.