The Lucille ergonomic ball chair brings bounce and flexibility to your sit that will help you think big and push innovative ideas. This versatile retro ball chair is perfect for collaborating with your colleagues and provides a fun break from traditional sitting. This ergonomic ball chair is also great for reception areas, Lucille delivers a sense of humor while you wait. Lucille is available in four stretch mesh colors which exude a whimsical quality. Designed to be the "go to" seat when you need to rejuvenate, or the "idea" seat when you need to bounce a few ideas around. Backed by the Dauphin-Valo 10 Year Factory Warranty!
Retro ball chair is available in 4 nylon mesh colors to liven your space

Integrated air pump in base

17-18" seat height

22" diameter

Promotes good posture and stimulates core muscles

Excellent guest or side chair in any space especially collaborative

Easy to pick up and move

Ball spins 350-degrees unlike many others

Your guests will love it!

Ships Free in about 7 Business Days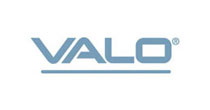 Valo warrants its products to be free from defects in material and workmanship for 10 years as long as the original customer owns and uses the product under normal single-shift office conditions. If a product is defective, and if written notice of the defect is given to Dauphin North America within the applicable warranty period, Valo, at its option, will either repair or replace the defective part or product with a comparable component or product. The 10 year Warranty applies to all products, and parts except upholstery Materials 3 years. This warranty does not apply to defects from normal wear and tear, accidents, negligence, abuse, shipment, handling, storage or environmental conditions nor does it apply to "Customer's Own Materials". Any modifications to our products made by the purchaser, purchaser's employees or agents, voids this warranty. This warranty extends to all product shipped after January 1, 2007 whichare used for normal office purposes and single-shift service. All claims under this warranty must be made by the original purchaser within 30 days of alleged defect. This warranty is the customer's sole remedy for product defect. No other expressed or implied warranty is provided. Dauphin North America is not responsible for any consequential, economic or incidental damages arising from any product defect.