Knoll ReGeneration Open Box
Model

KNL-44-1-HA-2-S-X-HC-OPEN-BOX
Brand
Vendor
Condition
Minimum Purchase

1 unit(s)
Maximum Purchase

1 unit(s)
Gift Wrapping
Weight
Innovative in its simplicity, this high performance Knoll chair minimizes materials and components. The straightforward design leverages flexible and durable materials that respond to your movements, providing comfort and good support throughout the day. Shipping as always is Free.
This is an Open Box opportunity to buy a Knoll Regeneration chair at a deeply discounted price. This is a sample that shows as new and carries a full Knoll factory warranty. Chair has been certified and includes a brand new base, casters and pneumatic piston. Color is Onyx with a Pebble back insert. One (1) only. Typically sells for $610 and up.
Knoll ReGeneration Chair Features:
Flex Back Net back provides integral lumbar support

Flex Seat allows you to sit in any position and supports your body as it turns 270-degrees

Pneumatic seat height

Adjustable recline resistance settings

Slim profile back

Flex Seat with high resilient molded foam and high performance Generation 100% Nylon fabric / 100,000 double rub tested

Dynamic Suspension control with Four independent flexors respond to your multi-directional movements

Adjustable seat depth

Integrally colored glass reinforced nylon base

BIFMA Level 3 certified

Greenguard Gold certified

SMaRT Sustainable Platinum certified

Certified for users up to 300 lbs. on a 24/7 multi-shift basis

12 Year Warranty
This Knoll ReGeneration Open Box Quick Ship Chair Includes:
All of the above

Height Adjustable arms standard; Optional

High performance arms adjust up and down, in and out and have caps that slide and pivot

Dark frame finish w/ Pebble web

Nylon base

Ultra Seat foam

Hard casters

100% Nylon Generation seat fabrics

We are an authorized Knoll retailer. Please contact us directly for information or pricing on this Knoll chair or any other Knoll product.
Knoll Chair Dimensions
28.5" (with arms)

: 26"

Seat depth:16-18"

Seat width:19.7"

38.1 - 43.3"

Knoll Chair Seat Height*:16.4 - 21.6"

Knoll Chair Arm Height*: 22.5 - 31.9" (high performance arm)

Knoll Chair Distance between arms 16.5 - 20.75" (measured from inner arm edges)
*With standard cylinder
Formway Designs Product Story
Principals at Formway Design, the New Zealand-based design group, credit the many lessons learned during the extensive design and prototyping process for the Generation chair and years of close collaboration with materials experts and product engineers at Knoll for the relatively quick two-year time span between the conception and launch of the Knoll ReGeneration chair.
Formway Lead Designer Kent Parker cites the elegantly attenuated bridges of architect-engineer Santiago Calatrava as a model for his team's strategy of using the structural diagram to dictate the overall form. By celebrating rather than hiding the interplay of loads and forces typically applied to work chairs, Formway was able to "minimize components and minimize materials so we get [directly] to performance," explains Parker. Benjamin Pardo, Director of Design at Knoll, concurs, pointing to the designers' use of a curve for the chair's back as the central element and one that equally and economically serves both aesthetic and structural purposes and, at the same time, provides comfort. "Visually there is not a lot of chair there," notes Pardo, who explains that this economy of means not only results in an appealingly slim silhouette, it also sends a strong message about making efficient structures, and, so, by implication, the importance of conserving natural resources.
And there was an added benefit to both revealing and streamlining the structure, according to Formway's lead engineer Paul Wilkinson, who points out that "more parts add complexity and [therefore] cost," something counter to the fundamental purpose of the Knoll ReGeneration chair—bringing dynamic seating to a wider audience.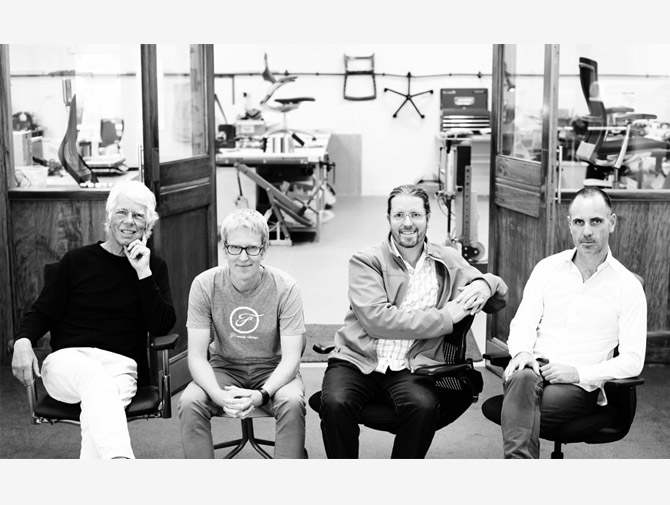 Founded in 1956, New Zealand-based Formway Design has been designing furniture for more than five decades. In 1979 the company redefined itself, developing a new identity and philosophy that focused on team-based design and extensive research.
Knoll and Formway first collaborated on the highly successful Life® Chair, introduced in 2002, which is celebrated for its sophisticated design, intuitive adjustments, responsive ergonomics and sustainable attributes.
Building on these features, the two companies came together once again to develop the Generation chair, introduced in 2009. The progressive design features new materials and an elastic design that supports the physical and cognitive activities of the modern office worker. Inspired by Generation, MultiGeneration® and ReGeneration® expand the Generation by Knoll® Family.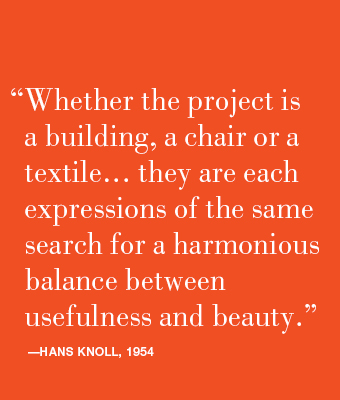 Warranty Knoll warrants to You only that the Products Knoll manufactures and sells to You are free of defects in workmanship and materials. Should any failure to conform to this limited warranty appear to a Product listed below during the applicable warranty period from the date of shipment, Knoll shall, upon prompt written notice, repair or replace, at its option and cost, the affected part or parts. Furniture and Accessories
Lifetime Antenna® Workspaces, Calibre®
12 Years Chadwick®, Essentials Work Chairs, Generation by Knoll® , ReGeneration by Knoll®, Life®, Moment®, MultiGeneration by Knoll®, RPM® and Sapper seating (except seating upholstery, textiles, leathers and finishes, see below).
10 Years Antenna Workspaces, AutoStrada, Crinion Open Table, Reff Profiles wood components, Series 2 Veneer Front Storage, cascade edge worksurfaces, Wood Casegoods (Magnusson, The Graham Collection, except wood casegoods upholstered surfaces, see below), Interaction tables (except height adjustment mechanisms for Counterforce, crank-adjustable, and split-top tables and worksurfaces, see below), Reuter overheads, Reuter vertical storage, KnollExtra Sapper Monitor Arm Collection and XYZ monitor arm, Adjustable keyboard mechanisms and platforms, Communication Boards (except fabric board textiles, see below), Smokador® collection (except leathers, see below), Orchestra® Universal Systems Accessories, and k. lounge structural components.
5 Years KnollStudio, Operational parts, controls, electrical, Lighting (except light ballasts, bulbs and power supply, see below), special or custom product, wood veneer products, Currents handcrank, Interaction Counterforce, Interaction crank-adjustable, and split-top mechanisms, CPU storage and all universal storage drawers.
3 Years Seating upholstery, textiles, leathers and finishes. Fabric boards textiles and Smokador Collection leathers.
2 Years All other KnollExtra products.
1 Year Light ballasts, bulbs and power supply, seating upholstered armpads and soft armpads,wood casegoods upholstered surfaces, k. lounge upholstery and k. lounge fabric. This warranty does not apply to:
Normal wear and tear or acts or omissions of parties other than Seller (including user modification, improper use or installation of Products). COM or other third party materials applied to Products. Dramatic temperature variations or exposure to unusual conditions. Changes in surface finishes, including colorfastness due to aging or exposure to light. Except as specifically noted above, textiles and upholstery supplied by KnollTextiles (which are subject to the warranty listed below). Natural variations occurring in wood, marble, and leather shall not be considered defects, and the Seller does not guarantee the colorfastness or matching of the colors, grains or textures, or surface hardness of such materials. The Seller also does not guarantee the colorfastness of fiberglass panel surfaces.
Cool Hunting Video Presents: Knoll ReGeneration

In our latest video we got to talk to the creative minds at Kn...
Cool Hunting Video Presents: Knoll ReGeneration
03:02
In our latest video we got to talk to the creative minds at Knoll about the latest addition to their Generation line of work chairs, the ReGeneration. Based on the original Generation model the ReGeneration strived to achieve the same comfort and practicality while greatly reducing environmental impact through material reduction and thoughtful consideration at each step of production. See more of our videos at coolhunting.com/video