Welcome to a new cost saving way to work and connect. The new world order in work stations calls out for using shared spaces for the optimum in communication, collaboration and cost savings. Choose from Brilliant White or Pinnacle surfaces, Platinum or Charcoal paint and Platinum, Nimbus or Dune privacy panels. Overall footprint size is 10'W x 5'4"D. Ships free in 3 weeks. We can also arrange installation in most every market nationwide on request.
Hon Empower benching has an endless offering and vast ability to fit perfectly into your space. Our designers can assist in fitting this benching system and its many variants to make your space highly functional and cost efficient. Please connect with us for design help, paint and laminate samples or general advice if this open concept seems right for you.
This product can only be shipped to a commercial loading dock or be delivered 'curbside' by a lift-gate within a commercial business zone. Inside delivery and residential deliveries must be pre-approved and will typically carry surcharges passed on by The Hon Company.
Please call or message us for pricing and design help. We can be reached at 888.355.4999
Components Include:
4- 30"D x 60"W rectangular work-surfaces in 2 laminate finishes

3- Double Depth U-leg's

2- 60"W Support Beams

2- 60"W Shared Cable Troughs

2- 48"W a 13"H Privacy Screens in 3 Hon Appoint APN fabric

Non-electrified work-surface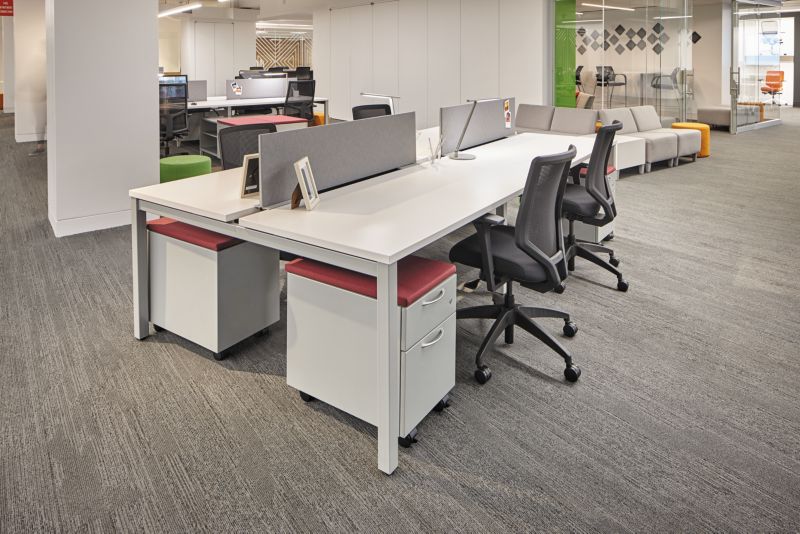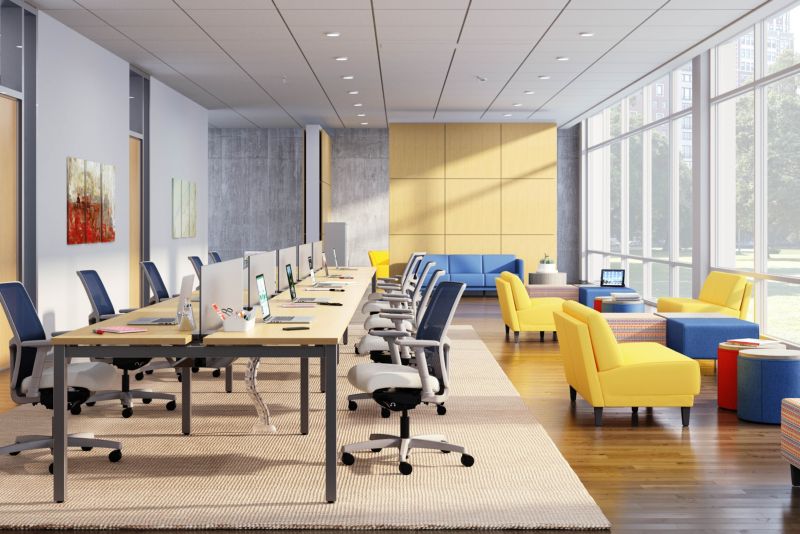 YOUR HON FULL LIFETIME WARRANTY Every time you purchase a HON product, you're making an investment in your future. We're proud to play a part in that future, and you can trust us to do our best for as long as you need us. The HON Full Lifetime Warranty is our assurance to you that the HON desks, workstations, seating, tables, or storage you purchase will be free from defective material or workmanship for the life of the product. In the unlikely event that any HON product or component covered by the HON Full Lifetime Warranty should fail under normal workplace use as a result of defective material or workmanship, HON promises to repair it. If we are unable to repair it, we will replace it with comparable product, or if preferred, we will refund the purchase price. WHAT'S COVERED BY THE HON FULL LIFETIME WARRANTY? Your HON Full Lifetime Warranty applies to product manufactured after January 1, 2011. All HON product lines, materials, and components are covered by the HON Full Lifetime Warranty except for the items described below. The specific product lines, materials, and components listed below are covered under HON's Full 12-Year, Full 10-Year, and Full 5-Year Warranties (from date of purchase). HON'S FULL 12-YEAR LIFETIME WARRANTY • Electrical components (lamps and ballasts are not covered) • Seating ilira®-stretch • Laminate surfaces • Seating controls • Signal seating upholstery fabric • Accessories • Wood Seating • Veneer Surfaces HON'S FULL 10-YEAR LIFETIME WARRANTY • Soothe Patient Recliner Mechanism HON'S FULL 5-YEAR LIFETIME WARRANTY • Panel and seating textiles • Soothe Patient Recliner Central Lock Mechanism • Soothe Patient Recliner Pivoting Arm These warranties apply to HON products sold within the United States of America, U.S. Territories, and Canada, as well as U.S. Military and Federal Agency purchases (regardless of location). IS ANYTHING NOT COVERED? There are a few exclusions to the HON Full Lifetime Warranty and to the 12, 10 and 5-year warranties. These exclusions are: • All basyx® by HON products (these products are covered under a separate basyx® by HON warranty). • Color-fastness or matching of colors, woodgrains, or textures occurring in wood, leather, or other materials that naturally exhibit inherent color variations. • Customer's own materials (COM) selected by and used at the request of the user. • Modifications or attachments to the product that are not approved by The HON Company and product failures resulting from such modifications or attachments. • Product normal wear and tear, which are to be expected over the course of ownership. • Products that were not installed, used or maintained in accordance with product instructions and warnings. • Products used for rental purposes. • Damage caused by cleaning chemicals. WARRANTY REQUESTS OR QUESTIONS? Your HON Dealer is our mutual partner in supporting your warranty requests. To obtain service under this warranty, please contact your HON dealer. If you are not sure who your dealer is, please call HON Customer Support at 800.833.3964