The CPU600 by Humanscale is the perfect marriage of form and function. There is convenient access to ports and cables, quick and easy installation/removal and an under-desk track mount on a swivel that can complete a full rotation of 360 degrees. Being mounted above the ground protects your CPU from dirt, vacuums and other workplace hazards. Built especially for mid-large size CPUs, (3.5" to 9" wide and 12" to 20" tall, and up to 50 lbs.). Available in two finishing options; Black/Brushed Aluminum or White/Brushed Aluminum. Contains 51% recycled material and is 99% recyclable itself.
Adjusts to fit CPUs 3.5" to 9" wide and 12" to 20" tall

Designed to easily support CPUs weighing up to 50 lbs.

Slides smoothly on nylon glides in 16" track

Rotates a full 360˚ for complete access to cables and ports

Fast and simple tool-free installation via Quick Lock technology

Aluminum and cold-rolled, powder-coated steel and plastic

Made from 51% recycled material/ 99% recyclable itself

Two Finishes Available: Black/Brushed Aluminum or White/Brushed Aluminum

FREE SHIPPING

Ships in 2-3 business days
Specfications: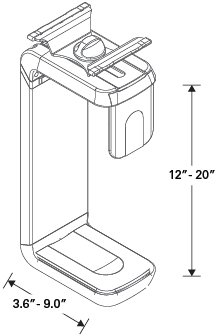 Create Environmentally Friendly Spaces with Humanscale
Humanscale is passionate about helping you design projects with minimal environmental impact.
Humanscale offers options for customers to "close the loop" and dispose of products in the most responsible way possible. Rather than sending them to landfills, we would like to make it easier for our customers to repurpose their products.

Download more information on this program >

We are an authorized Humanscale retailer. For special pricing requests, information or samples on this or any other Humanscale product please contact us directly.
All CPU Holders are warranted for 15 years of 24/7 use