Coordinate Height-Adjustable Desk
Model

HON-HAT3S
Brand
Vendor
Condition
Gift Wrapping
Weight
Coordinate height-adjustable table raises and lowers your work surface for a healthier sit-stand workstation throughout the day. This base quickly adjusts from 23-5/8" to 49-1/4"H off the ground and fits work surface sizes below. These tables have a maximum load load capacity is 250 lbs. The base includes a motor-activated lift, putting the user in control of their environment. Ships Free in 2 Business Days.
Includes work surface and height-adjustable base

Ideal for workstations, shared work-spaces and collaborative areas

Leg design includes a pre-assembled motor

78" cord provides easy access to floor or wall outlets

Adjustable columns are 14-gauge precision steel tube

Maximum load capacity is 250 lbs.

Optional casters

Ships Free in 2 Business Days
Dimensions:
23-5/8" to 49-1/4"H

laminate top sizes: 60"W x 24"D,

60"W x 30"D, 72"W x 30"D
Laminate Worksurface Finish: Whte, Shaker Cherry, Mahogany, Pinnacle
Features: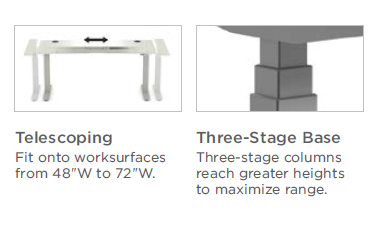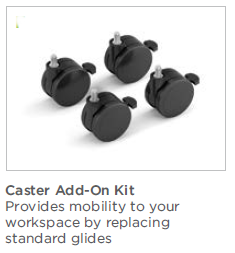 Specifications:
General
Assembly Type:
Easy to Assemble (ETA)
Gross Weight: 80.0 lbs.
Top / Work Surface
Top / Work Surface Edge Thickness: 1.0"
Top / Work Surface Grommet: Standard
Top / Work Surface Shape: Rectangle
Top / Work Surface Material: High Pressure Laminate (HPL)

Base
Caster or Glide: Glide
Options: Add this great Easy Goes It Anti-Fatigue Mat that will help reduce foot, leg and back fatigue so you can stand more while using your sit to stand desk.
Read more about this Easy Goes It Anti-Fatigue Mat here
3/4" thick 100% polyurethane foam

18"D x 30"W x 3/4" Thick
The HON Company promises to repair or replace any
HON product or component that is found to be defective
in material or workmanship within five (5) years from the date
of original purchase so long as you, the original purchaser, still
owns it. This is your sole and exclusive remedy. This warranty
is subject to the provisions below. It applies to product
manufactured after January 1, 2013.
Limitations:
• Upholstery on chairs is warranted for two years from date of
purchase.
• Damage caused by the carrier in-transit is handled under
separate terms.
Exclusions:
This warranty does not apply and no other warranty applies to:
• Normal wear and tear, which are to be expected over the
course of ownership.
• Modifications or attachments to the product that are not
approved by The HON Company.
• Products that were not installed, used, or maintained in
accordance with product instructions and warnings.
• Products used for rental purposes.
Seating Usage
Normal commercial use for seating is identified as the
equivalent of a single shift, forty- (40) hour workweek.
To the extent that a seating product is used in a manner
exceeding this, the applicable warranty period will be
reduced in a pro-rata manner.
A word about color variations, fabrics and finishes:
The HON Company does not warrant the color-fastness or
matching of colors, grains, or textures of covering materials.
Customer's Own Material (COM)
Not available on basyx by HON product.
TO THE EXTENT ALLOWED BY LAW, THE HON COMPANY
MAKES NO OTHER WARRANTY, EITHER EXPRESS OR
IMPLIED, INCLUDING ANY WARRANTY OF MERCHANTABILITY
OR FITNESS FOR A PARTICULAR PURPOSE. THE HON
COMPANY WILL NOT BE LIABLE FOR ANY CONSEQUENTIAL
OR INCIDENTAL DAMAGES.
Notice to purchasers for home or personal use:
Federal law does not permit the exclusion of certain implied
warranties for consumer products. Therefore, if you are
purchasing this product for home or personal use, the exclusion
of implied warranties noted in the above paragraph does
not apply to you. Some states do not allow the exclusion or
limitation of incidental or consequential damages, so the above
limitation or exclusion may not apply to you. This warranty
gives you specific legal rights, and you may also have other
rights which vary from state to state.
This warranty applies only to products sold within the United
States of America and the Commonwealth of Canada.
To obtain service under this warranty:
Your basyx by HON Dealer is our mutual partner in supporting
your warranty requests. By following the procedures outlined
below, you can be assured of the best level of service. Please
note: Consent of The HON Company must be obtained before
any warranty work is performed. To obtain consent, please take
the following steps:
1. Contact the Dealer from whom the product was purchased
within 30 days of discovery of the defect. Be prepared to
affirm that you are the original purchaser of the product and
to provide the serial number(s) from the product in question.
2. Your Dealer will gather all pertinent information regarding
the claim, inspect the product, and contact a HON Company
customer service representative. (Please allow a reasonable
amount of time for inspection and review.)
3. If The HON Company affirms that the product in question is
eligible under the conditions of the warranty as stated above,
the customer service representative or another
representative of the Company will determine whether to
provide replacement parts, authorize repairs, or replace the
product.
How to Use Your Coordinate Height-Adjustable Table Base

Learn more about the Coordinate height-adjustable and sit-to-s...
How to Use Your Coordinate Height-Adjustable Table Base
01:26
Learn more about the Coordinate height-adjustable and sit-to-stand solutions at hon.com/Coordinate. Hi, I'm Blaine with the HON company. Let's take a look at how to use and program HON's Coordinate height adjustable base. First, you'll want to make sure that there are no obstacles in the desk's path and the desk is not touching any walls or panels. You'll also want to make sure that all the cords are an appropriate length to accommodate for the changes in height. Using the handset, the first thing you need to do is reset the desk. To do so, press and hold the down button on the Handset until the desk reaches its lowest height, then release. Press and hold the down button again until the LED display reads "RST". Press and hold the Down button one more time until the desk lowers a little more, slightly rises and then stops. Your desk is now ready to use. Follow this process at any time if you need to reset your desk height preferences again. The base can be used intuitively by using the up and down buttons until your desired height is reached. You also have the ability to program up to four presets on the same model. Programing your presets is similar to how you might adjust your car seat. Just adjust the desk to your desired position and then press "M" followed by a number. A single press of that button will move the base to the programmed height. (Did you know) Please see your instruction sheet for any additional programming instructions and/or troubleshooting. That's all we have for you today, we'll see you next time!