Active Tasker Chair
Model

OMI-OM5AT
Vendor
Condition
Gift Wrapping
Weight
In capturing one of the coveted 2013 Ergo Expo Attendees' Choice Awards, the OM5 Active Task Chair had to be amoungst the top 4 vote-getters as decided by well over 1,400 of the leading ergonomic thought-leaders and evaluators in the country, as well as by many influential decision makers such as end-user facility, environmental health & safety, and purchasing personnel. The OM5 Series task chair has a one-piece nylon shell top and is available in 7 shell colors. Standard chair (without options) comes with no arms, carpet casters and 5" black standard cylinder (see customizable options below). 12 Year Limited Warranty. Ships Free in 7-10 Business Days.

See the fixed foot ring option below but *If you'd like this Active Tasker as a stool with an adjustable foot ring see the Active Tasker Stool
Dimensions
300 lbs. capacity

Overall Width

: 25"

Back

: 17.5"w x 16"h (without arms)

Seat

: 18"w x 18"d

Seat Height

: 16.5-21", Seat Height with 8" Stool Cylinder 19"-27"

Optional: arms, soft casters for hard floors
Options to make this chair stool height:

GSPPKG

| Spider base with chrome flat fixed 22" footring, 8'' cylinder, and dual-colored, 65mm soft casters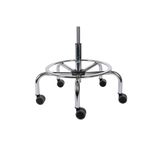 Standard Carpet Casters and Soft Casters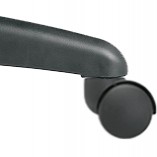 Office Master offers the following warranties to the original user.

12 Year Limited warranty unless otherwise specified, all models not classified as 'budget' or 24/7 or heavy duty.

7 Year Limited Warranty unless otherwise specified, all models classified as budget or 24/ 7 or heavy duty.

Fabrics and foams are covered by a period of 5 years.

All models are equipped to handle sitters up to 250 pounds unless noted otherwise.

Warranty does not cover labor.

To start a claim contact us at 888-355-4999 for products bought directly from us or Office Master at 877-776-5678
Inescapable Comfort - OM5 Chair (Office Master)

The OM5 is the best chair in the world! #1 Comfort and Ergono...
Inescapable Comfort - OM5 Chair (Office Master)
01:09
The OM5 is the best chair in the world! #1 Comfort and Ergonomics The story behind it's creation: "Office Master challenged up-and-coming designer Francisco Romero of Phidesign to innovate a wholly new chair starting quite literally from nothing. The OM5 Series is the result of that call to action. By stripping away all restrictions on this talented designer, Office Master worked closely with Phidesign for nearly 2 years to bring this sophisticatedly simple chair to life." We've tried the OM5 at Neymarc Visuals....and we love it. Video Production by Neymarc Visuals, LLC Music Licensed (Audio Network)