Active Tasker Chair with Upholstered Seat
Model:
OMI-OM5ATUP
Brand:
Ships in 10-14 Business Days
In capturing one of the coveted 2013 Ergo Expo Attendees' Choice Awards, the OM5 Active Task Chair had to be amoungst the top 4 vote-getters as decided by well over 1,400 of the leading ergonomic thought-leaders in the country, as well as by many influential decision makers such as end-user facility, environmental health & safety, and purchasing personnel. The OM5 Series task chair has a one-piece nylon shell top, available in 7 shell colors with your choice of upholstered seat. Standard chair (without options) comes with no arms, carpet casters and 5" black standard cylinder (see customizable options below). 12 Year Limited Warranty.

See the fixed foot ring option below but *If you'd like this Active Tasker as a stool with an adjustable foot ring see the Active Tasker Stool with Upholstered Seat
300 lbs. capacity

3 chair base options; 1 stool base

Optional: arms, soft casters for hard floors

Option to make this chair stool height: GSP | Spider base with chrome flat fixed 22" foot ring, 8'' cylinder, and dual-colored, universal casters
Shell Colors
Base Finishes
Standard Carpet Casters and Soft Casters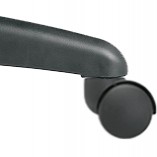 Overall Dimensions:

25" W x 18" D x 32-36.5" H

Seat Width:

18"

Seat Depth:

18"

Seat Height:

16.5-21"

Seat Height with Stool Base:

23.5-31.5"

Back Width:

17.5"

Back Height:

16"
Lifetime Limited Warranty The OM5 Series® (including the OM5 Active sub-series), Truly.®Series, and Ginny are covered by a lifetime limited warranty on all structural components as defined below. 12-year Limited Warranty Unless otherwise specified, all models not classified as budget or 24/7 or heavy-duty are covered under a 12-year limited warranty on all structural components as defined below. 7-year Limited Warranty Unless otherwise specified, all models classified as budget or 24/7 or heavy-duty or bariatric are covered under a 7-year limited warranty on all structural components as defined below. Budget series include: BC, SG, ST, and WS. Bariatric series includes: GY4B26 and GY4B-30. Warranty Terms Within a given model's applicable warranty period, all structural components, including gas cylinders, wood, metal and plastic parts (i.e., chair frames, bases and control handles) are guaranteed against structural failure when under normal commercial use. All OM seating comes with a default 275 lbs. weight capacity limit unless otherwise specified by OM Seating. For all models, consumable items (i.e., casters, glides, etc.) are covered by a 5-year normal commercial use warranty with the exception of Rubber Casters which will be a 1-Year Limited Warranty. Fabrics and Foam OM Seating in-stock upholstery & foam cushions are covered by a 5-year normal commercial use warranty. Normal wear and tear on fabrics such as wrinkling, dirt accumulation or gathering is not covered. This includes Truly.® Series "Jackets" and "Wraps". Natural, minor variations may exist in color, surface, grain or texture of upholstery materials. As a result, any such variations are not warranted. COM/COL and graded-in fabrics are not covered. Unless otherwise specified all OM products are manufactured in accordance with normal commercial usage – for a single 8-hour shift, a total of 40 hours or less per week, and by persons weighing 275 pounds or less. OM shall not be liable for loss or damage resulting from use beyond the approved range or by any cause beyond reasonable control such as abuse, misuse, neglect, alteration, or act of God. Special terms may apply on certain series; please see the relevant product page in this pricebook for details. All changes and cancellations will be subject to approval by OM and must be requested within 24 hours after OM receives the order. Changes and cancellations may only be approved for orders that have not entered any stage of production. A minimum of 25% change order fee, but can be more, will apply to any changed orders. Cancellations, if approved, are subject to a penalty up to the entire amount of the order. Because we make our chairs to order and make every effort to ship as quickly as possible, we strongly discourage making any changes or amendments to your purchase orders whenever possible. Returns will not be accepted without an accompanying, written Return Merchandise Authorization Number (RMA). Please contact customer service to obtain an RMA. Returns must be received within 30 calendar days from the date of RMA# issuance. Authorized returned merchandise shall only be delivered to OM on prepaid freight. OM reserves the right to inspect all returned goods before issuing any appropriate credit. A minimum restocking fee of 25% applies to returned merchandise received in good resalable condition. C.O.M. orders may not be eligible for return. Office Master offers the following warranties to the original user. Warranty does not cover labor. To start a claim contact us at 888-355-4999 for products bought directly from us or Office Master at 877-776-5678